SAY GOODBYE TO HAIR LOSS & BALDNESS
#1 Leading Solution
Patented for Hair Loss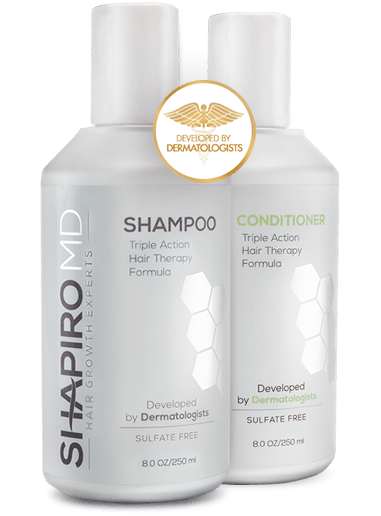 An overwhelming majority of our users see thicker and fuller hair within the first 30 days of use. You have a full 2 months to decide how you feel about the results. See our formula work for yourself for less than the price of a cup of coffee per day, all of which you can get back if you're not satisfied for any reason at all.

All we're telling you is that you have nothing to lose by trying it out, and a better-than-fantastic chance of regaining thicker and fuller hair when everything else has failed.
Restore your look…
Restore your confidence…
Restore your enjoyment and happiness in life…
Fight Hair loss!
You won't find this complete hair loss solution in retail stores, so don't miss this one-time opportunity to order direct from the doctors and lab that has made it possible by selecting a package now.
Best Deal
maximum strength
---
---
---
---
TRY 4 SYSTEMS
$49.95each
Retail Price $300.00
Now Only $199.80
instant saving $100.20

DouBle Package
moderate strength
---
---
---
---
TRY 2 SYSTEMS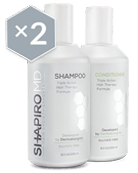 $59.95each
Retail Price $150.00
Now Only $119.90
instant saving $30.10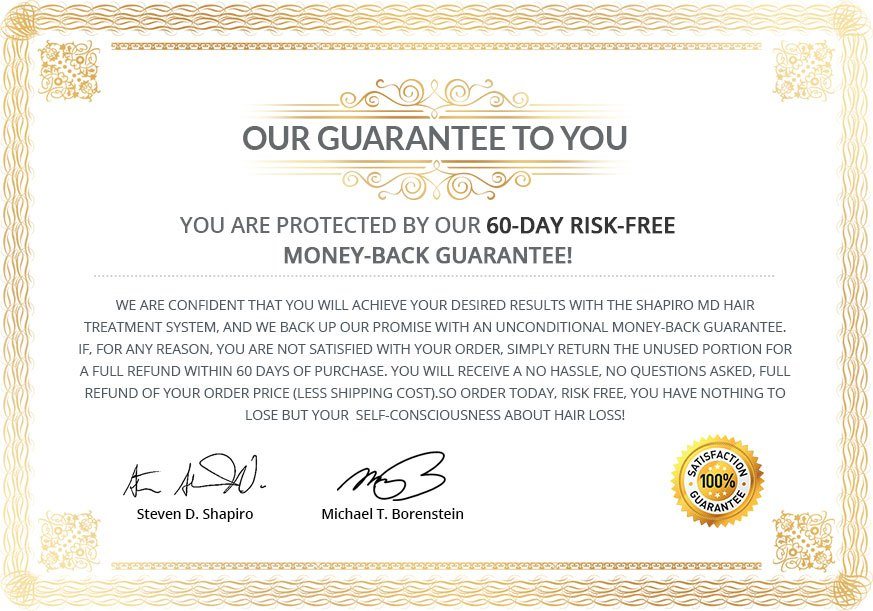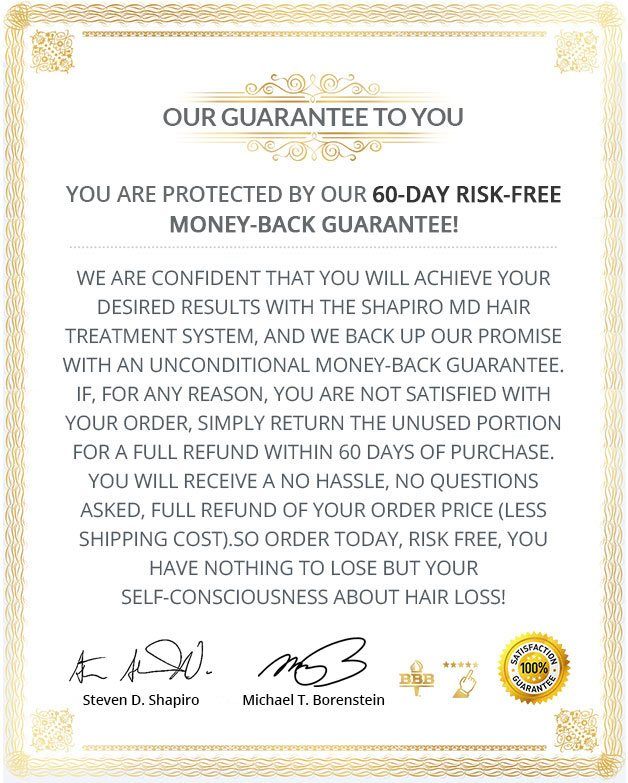 Three naturally occurring, potent DHT blockers.
DOCTOR FORMULATED & RECOMMENDED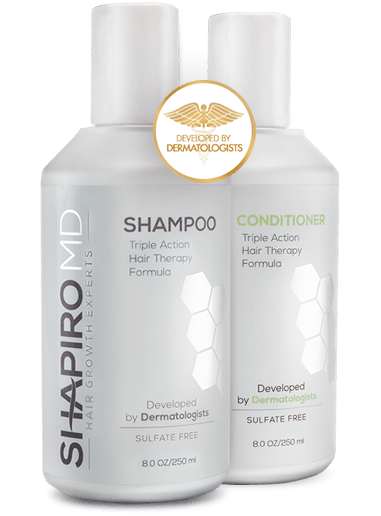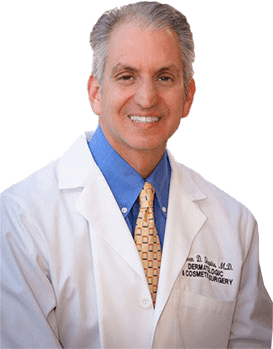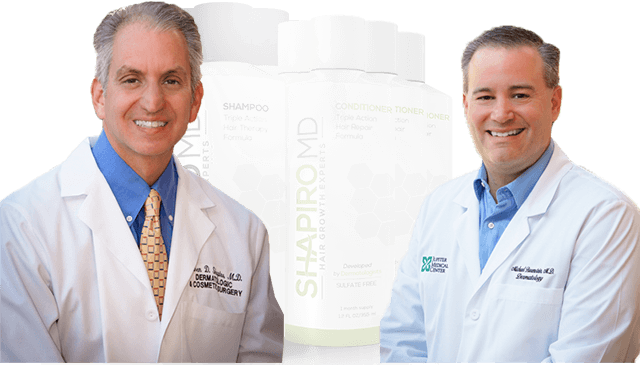 Steven D. Shapiro
M.D., Co-Founder of Shapiro MD
Michael T. Borenstein
M.D., Ph.D., Co-Founder of Shapiro MD

Shapiro MD's hair loss treatment is a patented formula that contains the 3 most potent DHT blockers ever discovered. DHT is widely believed to be the root cause of hair loss. If DHT levels are lowered, hair loss will stop.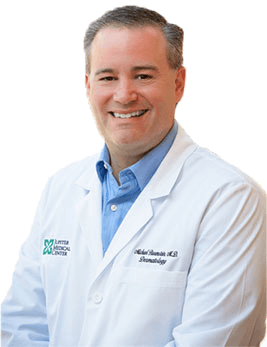 Michael T. Borenstein
M.D., Ph.D., Co-Founder of Shapiro MD

The Shapiro MD system is the product of more than 10 years of scientific research into all-natural DHT blocking ingredients. It is formulated to produce immediate results or we will give you your money back, GUARANTEED.
Ask Dr. Steven D. Shapiro & Dr.Michael T. Borenstein
Frequently Asked Questions
How many systems should I buy?
For best results we recommend users purchase a 4 month supply of the system. Shapiro MD Shampoo and Conditioner should be used with every shower. Apply to a moist scalp for up to 20 minutes can maximize the benefit. Many patients have experienced benefits by applying at the beginning of their shower and rinsing at the end of their shower. Showering daily is most effective, but for people who like to shower less often, every other day application is still helpful.
When will I see results?
What makes this product so good?
Why is Shapiro MD better than all other Hair Loss products?
Who are the Medical Doctors that created this?
Does the Hair Treatment System work for Women?
HOW Shapiro MD WORKS TO STOP HAIR LOSS & STIMULATE HAIR REGROWTH
THE GROUNDBREAKING SCIENCE

BLOCKING DHT
Hair loss is typically caused by excess dihydrotestosterone (DHT) in the body. Shapiro MD's active ingredients target the specific enzyme that converts the male hormone testosterone into DHT, effectively halting the main cause of hair loss.

FORMULATED FOR MEN
Our products are designed to treat hair loss and thinning hair in men. Blocking DHT using Shapiro MD's advanced formulation is the most reliable way to stop hair loss and regain thicker hair.

THICKER, FULLER HAIR
Our Triple Action shampoo and conditioner has helped thousands of men and women achieve life changing thicker and fuller hair. In addition to powerful DHT blockers, Shapiro MD's products contain essential nutrients for a healthy scalp and hair.

POWERFUL & ALL NATURAL
Shapiro MD's products contain the 3 most powerful naturally occurring DHT blocking ingredients found anywhere in the world. Our patented formulation delivers all 3 of these ingredients in the precise dosages to deliver maximum results.
THE MOST ALL NATURAL POTENT DHT BLOCKERS
natually occuring active ingredients
Dr. Shapiro's Hair Loss Treatment System
contains 3 potent natually occuring active ingredients that have been shown to be effective in the pathway that leads to male pattern hair loss.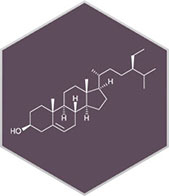 (Berry Extract)
SAW
PALMETTO
In a proprietary and patented formulation of these 3 naturally occurring ingredients...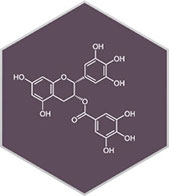 [C22H18O11]
EPIGALLOCATECHIN-3 -GALLATE (EGCG)
And with over 10 years of dedicated intensive scientific research and clinical dermatology testing…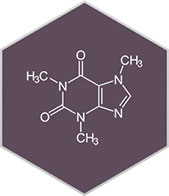 [C8H10N4O2]
CAFFEINE
DERIVATIVE
Shapiro MD's innovative and game changing Hair Loss treatment system was born.